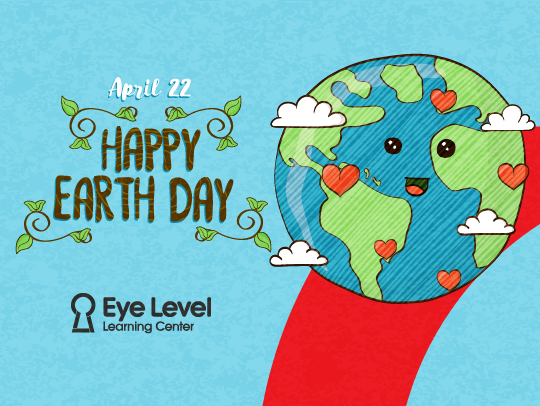 There is only one Earth. We must all do our part to keep our planet a safe, healthy place for every person, animal, and plant.
Since 1970, April 22 has been recognized as Earth Day. It is a day focused on ways to keep our planet clean and thriving for the future generations.
Each of us can take small steps every day to be proactive in our efforts to conserve resources. Those small steps add up to big progress in protecting the environment.
To celebrate Earth Day, participate in an environmentally-friendly, educational activity.
22 Fun, Easy Ways To Celebrate Earth Day
• Create a garden of plants, flowers, fruits, or vegetables
​• Plant a tree
​• Go for a family bike ride
​• Go for a family hike and observe nature
​• Have a nature scavenger hunt
​• Create a terrarium
​• Set up recycling bins
​• Use old newspapers and bottles to make arts and crafts projects
​• Collect leaves and sticks to make arts and crafts projects
​• Repurpose cardboard boxes for storage
​• Repurpose a juice carton to make a bird feeder
• Keep a bucket outside to collect rainwater for watering indoor plants and flowers
​• Turn off lights when leaving a room
​• Close the faucet tightly to prevent water from dripping
​• Use natural sunlight rather than lamps
​• Use reusable tote bags instead of plastic bags or paper bags
​• Use reusable food containers instead of plastic bags and plastic wrap
​• Use reusable water bottles instead of plastic bottles
​• Use stainless steel straws instead of plastic straws
​• Have a plant-based meal
• Visit a zoo or an aquarium
​• Read a book about animals
​
Encourage family members and friends to join you in protecting the Earth. Go even further to involve your community. Ask teachers if you and your classmates can plant a vegetable garden outside of your school. Write to your town officials explaining that you'd like to organize a volunteer group to plant trees around your neighborhood. Arrange to have recycling bins set up in local places like stores, restaurants, libraries, and community centers.
These are just a few of many ways you can get involved on Earth Day and every day. Visit EarthDay.org to learn more!
References:
EarthDay.org "The History of Earth Day." Retrieved 05 April 2022. https://www.earthday.org/history/
Environment America. "51 Environmental Activities Kids Can Do For Earth Day." 2021. Retrieved 05 April 2022. https://environmentamerica.org/blogs/greener-together/ame/51-environmental-activities-kids-can-do-earth-day
Reader's Digest. "25 Kid-Friendly Ways to Celebrate Earth Day Without Leaving the House." 2021. Retrieved 05 April 2022. https://www.rd.com/list/earth-day-for-kids/
​