Hi,
I'm Ritu patel, owner and Director here at the Eye Level Learning Center of Bartlett. Our Bartlett Center has been operating since 2012 and we are pleased to have served over 1200 students of Pre K to 8th grades in our local community. In that time we have brought about much positive improvement in the way these children study and understand Math and English. High percentages of our students have been placed in gifted and SWAS programs every year. We are proud of the reputation we have developed in Bartlett area. We, as owner/operator, along with our excellent staff of teachers are committed to helping you succeed.

I have over 20 years of experience in the field of education, have worked in similar capacity as Learning Center Director with other supplemental educational program and am a parent of two successful children. With this background and passion for education, I was able to quickly assimilate the values of the Eye Level methods to children, in particular the Critical Thinking component. In addition, the comprehensive English program covering grammar, comprehension, fluency, phonics, vocabulary, reading & writing, is superior to other programs, which fall short in this area.We firmly believe that a good foundation in education is the key to success in all walks of life. We make learning fun and centered on individual needs. This is essential in developing strong study habits and capabilities for lifelong learning.
It is our personal mission to make sure that your children learn math techniques and reading skills that will literally change the course of their lives. Thank you for allowing them to join us on this special- and very personal -quest!
Please email us at bartlett@myeyelevel.com or call (630-213-7475) or drop by to visit and see how we can make a difference in your child's life.
Thank you for stopping by and I look forward to working with your children.
EYE LEVEL PROGRAM FOR EARLY LEARNERS
An early start in counting and phonics skills is an invaluable asset.
Combine two of our programs math and reading to give your Pre-K student the head start he/she deserves.
Eye Level's early learning program provides children with the head start they need to excel in the classroom, with a focus on Math, Reading and Writing. Early Eye Level is our most popular kindergarten preparatory program. For one hour (thirty minutes per subject) once a week, students between the ages of 3 1/2 and 5 are actively engaged in the Early Learners Eye Level Math and English programs that are academically and developmentally appropriate.
Because of the shorter amount of time spent on each subject, this program is great for younger students who are still developing their focusing and classroom skills. Activities and booklets are fast paced, and students are able to feel as though they are making quick progress.
Why Early Eye Level?

We have found that many parents, while happy with their Pre-K or Kindergarten experience are in search of something a little more academic. Early Learners Eye Level offers supplemental educational Math and English programs which are excellent alternatives or supplements to play-oriented Pre-K programs.
Additionally, many parents of our Early Eye Level students are finding that the academics that their children do focus on in school often do not include early concepts of math and understanding numbers. We feel that this is the most crucial component of our math program.
Children that enter our math program at an early age, either in Pre-K or Kindergarten, have a rock-solid understanding of numbers, what they are and how they function. Because of this, our students do not need to count on their fingers or require additional manipulatives to complete mental math problems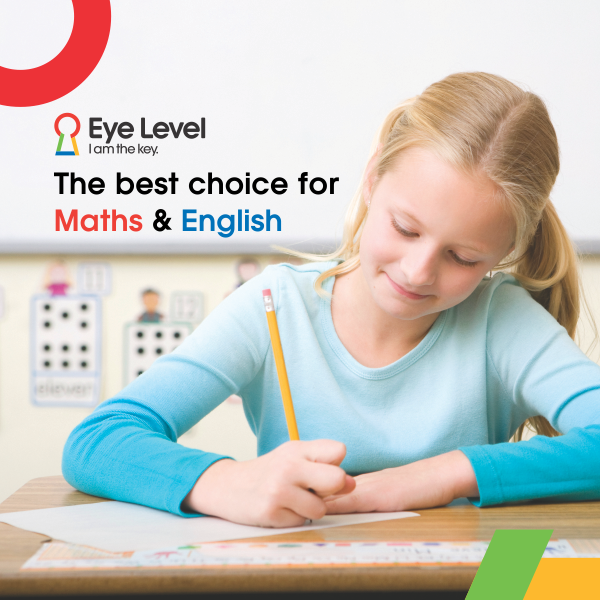 ​FREE Diagnostics Assessments and FREE registration ($110 value) for the month of January, 2020
​FREE Trial classes for 3.5-5 years old in the month of January, 2020
New students only, must mention the ad at the time of assessment and registration. Can not combine and use with other promotion.